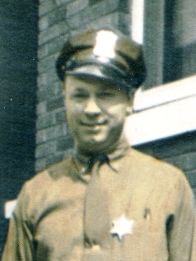 End of Watch: Sunday, April 17, 1938

Biographical Info
Age: 34
Tour of Duty: 4 years
Badge Number: Not available

Incident Details
Cause of Death: Gunfire
Date of Incident: Sunday, April 17, 1938
Weapon Used: Shotgun
Suspect Info: Committed suicide

Deputy John Germano was shot and killed when he and another deputy went to a home to serve a disorderly conduct warrant on an ex-convict. The man met the deputies at the door and opened fire with a shotgun, fatally wounding Deputy Germano. The man then fled to a nearby field where he committed suicide. Deputy Germano had served with the Winnebago County Sheriff's Office for four years.