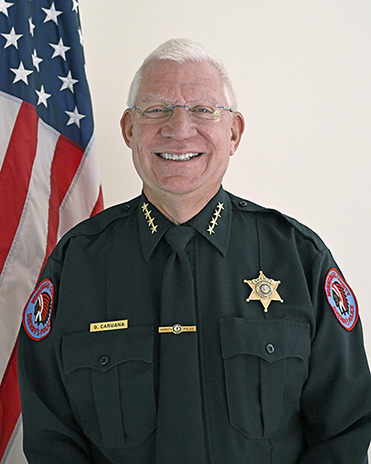 Sheriff Gary Caruana served nearly a decade as a Winnebago County Deputy Sheriff. During this time he served as a patrol officer, corrections officer, and process server allowing him to develop an understanding of the workings of the entire department.

In the early eighties Sheriff Caruana made the decision to move to the private sector where he began his long time career with United Parcel Service (UPS). Sheriff Caruana rose through the ranks of the corporation. During this growth he also attended college earning a Bachelor's degree and a Master's degree. Sheriff Caruana became the Corporate Investigative Security Manager responsible for facilities in Illinois including Chicago, Peoria, and Rockford airports. This responsibility covered 12,000 employees and millions of parcels carried by thousands of vehicles across the state. Sheriff Caruana developed working relationships with Local, State and Federal law enforcement agencies including the post 9/11 master operating security plans within O'Hare, Rockford and Peoria airports.

Sheriff Caruana, upon taking the Oath of the Office of Sheriff, in December 2014 recognized the need to develop strong working relationships with all Law Enforcement agencies to include Local, State and Federal Agencies. Sheriff Caruana was instrumental in resurrecting a strong K-9 Program to serve the Citizens of the Winnebago County region. This K-9 Program was funded in part by fundraising efforts through the Crime Stoppers program along with a (Private) Grant. At the present time (5) Deputies and K-9's are assigned to the unit. Sheriff Caruana enhanced the operational efficiency of Public Safety by adding a specialized unit comprised of Sheriffs' Deputies to combat Violent Crime, Narcotics, and gun seizures as well as working in the area of human trafficking. Sheriff Caruana assigned Officers to the FBI Safe Streets Task Force as well as assigning personnel to the Drug Enforcement Agency in a multi-jurisdictional narcotics enforcement role. Sheriff Caruana continues to oversee (unannounced) Saturation Patrols throughout the Winnebago County IL Region with the assistance of numerous Law enforcement agencies in the region as well as the State Level Law Enforcement. These operations are enhanced by the presence of Air-Support on a regular basis during the operation from the U.S. Department of Homeland security. These successful operations have resulted in a tremendous amount of felony arrests, along with Drug and gun seizures making the Winnebago County region a safer place for the Communities.

Sheriff Caruana has been a substitute Teacher in the local public school system and has been a volunteer for Keep Northern Illinois Beautiful. Sheriff Caruana is a former commissioner of the Rockford Board of Fire and Police Commissioners. He recently attended the Police Executive Research Forum Senior Management Institute for Police. Sheriff Caruana is also a graduate of the FBI National Academy (FBI NA 264.) Sheriff Caruana currently serves on the board of (RAASE) Rockford Alliance Against Sexual Exploitation, and serves as President of the Northwest Illinois Law Enforcement Executives Association. Sheriff Caruana is also a member of (ACFE) Association of Certified Fraud Examiners. Sheriff Caruana is also a board member of Air-One.