INMATE MAIL
How to address the envelope:
(Sample)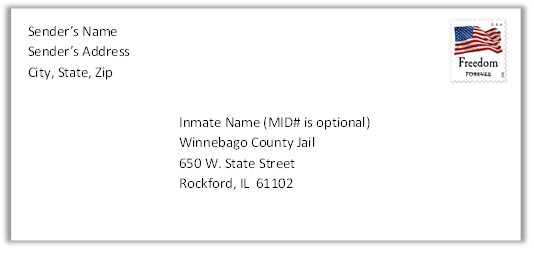 Mail must include:
Inmate's name (MID# is optional but helpful) or MID#
Sender's Name
Sender's Address
Mail that does not include the Inmate's name or MID# will be returned to sender
To find an inmate's MID# visit inmates.winnebagosheriff.com
Mail that does not include sender information will be returned to the Post Office
ALL MAIL IS SUBJECT TO SCREENING.
NO Glitter NO Lipstick
NO Glued or loose stones NO Staples
NO Glued pages NO Jewelry
NO Stickers NO Books or Magazines
NO Labels NO Checks, Cash or Money Orders
NO Oversized mail NO Envelopes or stamps*
*Inmates can purchase stamped envelopes through commissary.
Inmates are limited to 10 photographs in their possession at one time.
Mail containing inappropriate content will be returned to sender. Examples of inappropriate content include photos, drawings or pictures containing nudity, gang references, alcoholic beverages or anything of a sexual nature.
Inmate mail is not delivered on Saturdays, Sundays or Holidays.
INMATE PROPERTY
If an inmate is released to Illinois Department of Corrections see the Inmate Transfer to IDOC page for inmate property information.